24sep12:00 PM4:00 PMCOMMUNITY VACCINE AND EDUCATION CLINIC
Time

(Saturday) 12:00 PM - 4:00 PM
Location

Martha Washington School

766 N 44th Street
Event Details

Community Hero Action Group is proud to support this year's Children's Carnival hosted by Color Change to provide vaccine administration and education at this day full of fun and music.

Color Of Change Children's Carnival is bringing Black Joy & Black History to our communities and our youth in a space where they can express themselves and lean into their unique power. Join us as we celebrate Black families and youth from Philadelphia as we get real about what Black history means for all of our communities.

This is a call to action, a time to reflect and build on our power together while uplifting our narratives with Black joy! The marginalization of Black history, Black students, and Black educators in the U.S school system must end now. And it starts with leaning into our collective power and pressuring educational decision makers to defend Black history. This is the moment Black people, along with our allies, continue building and demonstrating our power and strength through teaching Black history . We need our collective work and commitment to our community to be visible in all aspects of our lives and you can learn how to do this by joining us for our Children's Carnival.

We are calling on Black folks and our allies from all walks of life to join us for good food, music that hits home for the culture, performances from local artists, and conversations about how we want to transform our communities. Join us as we dance, laugh, and celebrate together while strategizing new ways to center, uplift, and WIN for Black folks in our community.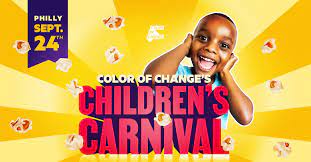 more
Organizer
Color of Change- PhiladelphiaSalaah Muhamaad
Martha Washington School766 N 44th Street
About This Site
Community Hero Action Group